Multisport GPS Watch for Fitness, Adventure and Style
Premium multisport GPS watch with Elevate™ wrist heart rate technology¹
Fit for adventure with rugged design that features stainless steel bezel, buttons and rear case
Put key stats at your fingertips with the performance widget that shows the effects and progress of your workouts
Connected features² include smart notifications, automatic uploads to Garmin Connect™ online fitness community and personalization through free watch faces and apps from our Connect IQ™ store
Outdoor sensors, including GPS and GLONASS satellite reception and 3-axis compass with gyroscope and barometric altimeter
Battery life: up to 2 weeks in smartwatch mode (depending on settings), up to 24 hours in GPS mode or up to 75 hours in UltraTrac™ battery saver mode

Beat yesterday all day, every day. fēnix 5 is the premium multisport GPS watch with wrist-based heart rate¹, advanced fitness features and interchangeable bands that let you go from workplace to workout without breaking stride. Whatever sport you want to track, fēnix 5 has it covered, thanks to built-in activity profiles and performance metrics plus smart notifications².

Striking Design, Strong Performance
Athletes and adventurers come in all sizes. That's why the fēnix 5 series offers multiple models that vary in size to fit every wrist and every workout. Each version offers a variety of stainless steel finishes, QuickFit™ watch band combinations and premium feature sets to give you the look, performance and lightweight comfort to match both your aesthetic and athletic interests.
Dual Navigation Networks
Every fēnix 5 series watch features advanced GPS and GLONASS satellite reception to track in more challenging environments than GPS alone. You can count on long battery life in each mode of operation (varies by model, depending on settings). And for go-anywhere confidence, all fēnix 5 versions are water-rated to 100 meters.
Outstanding Readability on the Run
A bright, high-resolution, full-color Garmin Chroma Display™ with LED backlighting assures great readability in all ambient conditions. Transflective technology that reflects and transmits light at the same time enables the watch face to become even more readable under intense sunlight. Sapphire editions feature a scratch-resistant sapphire lens and are also Wi-Fi®-enabled so your watch can connect to your wireless network and automatically send activity uploads for sharing on Garmin Connect.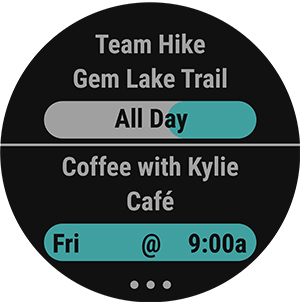 Wrist-based Heart Rate¹
On your wrist, Elevate wrist heart rate technology lets you monitor your heart rate without wearing a chest strap. In addition to counting steps and monitoring sleep, the watch uses heart rate to provide calories burned information and quantify the intensity of your fitness activities.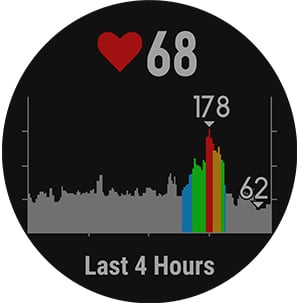 Match Your Style with Interchangeable Watchbands
A selection of QuickFit bands in your choice of premium leather, metal or silicone makes it easy to mix and match styles to go with any sport or activity. No tools are required to make the transformation. Just swap, click and go.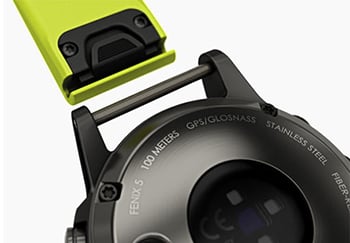 Advanced Performance Metrics
Every fēnix 5 series watch is packed with sophisticated training features to help monitor your form and performance³. Enhanced readouts for Training Status and Training Effect show aerobic and anaerobic benefits of your workout – so you can see how your workouts are paying off and even compare results with your peers. The VO2 max estimator crunches data, including your running speed, beats per minute and heart rate variability, to estimate the maximum volume of oxygen you can consume per minute. And other fitness metrics include recovery advisor with a recovery timer and recovery check, plus a race predictor that estimates your ideal finish time based on your current VO2 max number.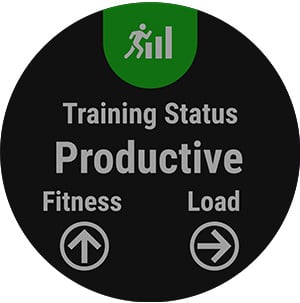 Advanced Running Dynamics
Now you can go further with your running data. Garmin training features that tap into extended physiological metrics and advanced running dynamics¹ can help improve your form and overall performance. These include:
Performance condition: After running for 6-20 minutes, fēnix 5 compares your real-time condition to your average fitness levels
Lactate threshold: Through analysis of your pace and heart rate, fēnix 5 estimates the point where your muscles start to rapidly fatigue
Cadence — number of steps per minute
Stride length — shows your stride length in real time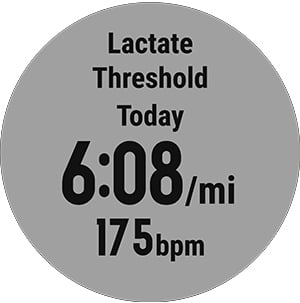 Want more? By pairing your watch with a compatible heart rate chest strap such as the HRM-Run™, you can access these additional fēnix 5 metrics³:
Vertical oscillation and ratio — the degree of 'bounce' in your running motion and the benefit ratio to stride length
Ground contact time and balance — shows how much time, in the running motion, your foot is on the ground rather than in flight and lets you check your running symmetry
Stress score: fēnix 5 measures your heart rate variability while standing still, for 3 minutes, to provide you with an estimated stress level. The scale of this is 1 to 100; low scores indicate lower stress levels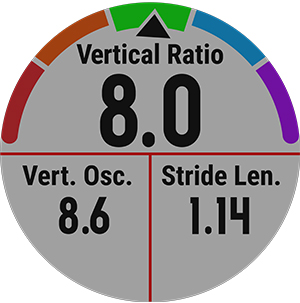 Swim Profiles, Skiing, Paddle Sports, Golf and More
Beyond their running functions, fenix 5 watches also offer special feature sets to help with swim training, skiing, golfing and paddle sports, including stand-up paddle boarding and rowing. For swimmers, the device tracks your distance, pace, stroke count and more. Ski/Board mode puts speed, distance, vertical drop and an automatic run counter (with Auto Pause for the lift line) and more at your fingertips. The feature set for paddle sports includes stroke count, stroke rate and even distance per stroke. Golf mode gives you yardage to the front, back and middle of the green for any single course you've downloaded from Garmin Connect – and also adds enhancements such as stat tracking (fairways hit, etc.), Green View, AutoShot detection and auto measure.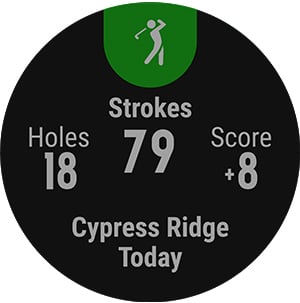 Navigate the Great Outdoors, Your Way
Every fēnix 5 model provides comprehensive navigation and tracking to guide you on and off the beaten path using GPS plus ABC (altimeter, barometer and compass) sensor capabilities. The built-in altimeter provides elevation data to accurately monitor ascent and descent, while the barometer can be used to predict weather changes by showing short-term trends in air pressure. The 3-axis electronic compass keeps your bearing, whether you're moving or not. In addition, there's an internal gyroscope to help improve position accuracy (and battery life) in UltraTrac mode.
So Many Ways to Stay Connected
Smart notifications² through fēnix 5 let you receive emails, texts and alerts right on your watch – whether you're on the trail, on the golf course or simply away from your desk. Other connected features include automatic uploads to our Garmin Connect online fitness community, live tracking and social media sharing through our free Garmin Connect and Garmin Connect™ Mobile applications.
Custom Apps and Watch Faces
You can customize any fēnix 5 series watch with free downloads from our Connect IQ store. Change your watch face, add data fields or get apps and widgets for information at a glance.
Garmin is continually working with top companies and developers to build partnerships that add even more value to your fēnix multisport watch. Names such as Uber, Strava, AccuWeather and many others offer apps and enhancements that let you tailor your fēnix 5 to fit your lifestyle in more ways than ever.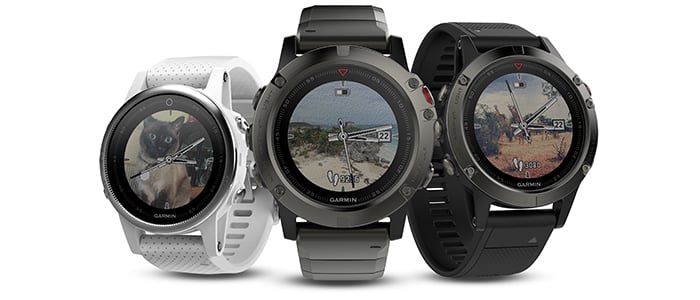 Wear Your Personality on Your Sleeve
You can also download the free Garmin Face It™ watch face app to customize your fēnix with any photo from your smartphone. Just download the app, choose an image from your photo library, adjust the style for time and set it as your watch's face. Whether it's a scenic view from your last hike or a picture of your new puppy, with Garmin you can add personality to your watch that's uniquely you.
¹See Garmin.com/ataccuracy
²When paired with a compatible smartphone; see Garmin.com/BLE
³When paired with heart rate monitor; included with some models, sold separately on others
Wi-Fi® is a registered trademark of the Wi-Fi Alliance. App Store is a trademark of Apple Inc. Google Play is a trademark of Google Inc.
(Garminfenix5)
In the Box
fēnix 5
fēnix 5
Charging/data cable
Documentation
fēnix 5 Sapphire
fēnix 5 Sapphire
Extra silicone QuickFit™ 22 watch band
Charging/data cable
Documentation
BUDGET PRICE $$
Great when you need to save in cash and don't need the item right away.
Conditions:
Item is not held in stock

If you ordered the regular Fenix 5

​MAKE A NOTE IN THE DESCRIPTION (Black, Yellow or Blue)

​Sapphire and Saphire Metal excluded as they have their own listings

Item will be ordered once payment has been received

We will then order the item from our supplier

Once received we will ship to you ASAP

If product is on backorder you will be notified and given an ETA

You may be eligible for a refund up until the stock is ordered from our supplier

Contact us on 07 3040 5978 for more information!
General

Lens Material

glass or sapphire crystal

Bezel Material

stainless steel

Case material
fiber-reinforced polymer
QuickFit™ watch bands

yes (22 mm)

Strap material

silicone or steel

Physical size

47 x 47 x 15.5 mm

Weight

silicone band: 85 g
metal band: 156 g

Water rating
10 ATM
Battery type
rechargeable lithium-ion
Display type
sunlight-visible, transflective memory-in-pixel (MIP)
Display size
1.2" (30.4 mm) diameter
Display resolution
240 x 240 pixels
Color display
Battery life
Smart mode: Up to 2 weesk
GPS/HR mode: Up to 24 hours
UltraTrac™ mode: Up to 60 hours without wrist heart rate
Memory/history
64 MB
Clock Features

Time/date
GPS Time Sync
Automatic daylight saving time
Alarm clock
Timer
Stopwatch
Sunrise/sunset times
Sensors

GPS
GLONASS
Garmin Elevate™ wrist heart rate monitor
Barometric altimeter
Compass
Gyroscope
Accelerometer
Thermometer
Daily Smart Features

Connectivity
Bluetooth® Smart, ANT+™, Wi-Fi with sapphire editions
Connect IQ™ (downloadable watch faces, data fields, widgets and apps)
Smart notifications
Calendar
Weather
Music controls
Face It™ watch face creator
Find my Phone feature
VIRB® remote
Smartphone compatibility
iPhone®, Android®, Windows®
Compatible with Garmin Connect™ Mobile
Find My Watch feature
Activity Tracking Features

Step counter
Move bar (displays on device after a period of inactivity; walk for a couple of minutes to reset it)
Auto goal (learns your activity level and assigns a daily step goal)
Sleep monitoring (monitors total sleep and periods of movement or restful sleep)
Calories burned
Floors climbed
Distance traveled
Intensity minutes
TrueUp™
Move IQ™
Training, Planning and Analysis Features

Activity history on watch
Customizable activity profiles
Customizable alerts
Audio prompts
Auto multisport activities
Course guidance
Advanced workouts
Auto Lap®
Auto Pause®
Auto scroll
Customizable data pages
Manual multisport activities
Virtual Partner
Finish time
Group LiveTrack
productSpecFitnessAge
Hot keys
Configurable lap alerts
LiveTrack
Touch and/or button lock
Manual lap
Personal records (running, cycling, swimming)
Segments (Live, Garmin)
GPS speed and distance
Training Effect (aerobic)
Training Effect (anaerobic)
Training Load (your total training load for the last 7 days calculated from estimated EPOC)
Downloadable training plans
Training Status (lets you see if you're training effectively by tracking your training history and fitness level trend.)
V02 max
Vibration alerts
Virtual Racer™
Heart Rate Features

HR zones
HR alerts
HR calories
% HR max
% HRR
Recovery time
Auto max HR
HRV stress test (measures your heart rate variability while standing still, for 3 minutes, to provide you with an estimated stress level; the scale of this is 1 to 100; low scores indicate lower stress levels)
yes (with compatible accessory)
HR strap compatible
yes (ANT+™ and Bluetooth® Smart sensors)
Records heart rate while swimming
yes (with HRM-Tri™ and HRM-Swim™)
HR Broadcast (broadcasts HR data over ANT+™ to paired devices)
Running Features

Preloaded run profiles

Running, Indoor Running, Trail Running

GPS-based distance, time and pace
Running dynamics
Vertical oscillation and ratio (the degree of 'bounce' in your running motion and the cost-benefit ratio with stride length)
yes (with compatible accessory)
Ground contact time and balance (shows how much time, in the running motion, your foot is on the ground rather than in flight and lets you check your running symmetry)
yes (with compatible accessory)
Stride length (real time)
yes (with compatible accessory)
Cadence (provides real-time number of steps per minute)
Physiological measurements
Performance condition (after running for 6–20 minutes, compares your real-time condition to your average fitness levels)
Lactate threshold (through analysis of your pace and heart rate, estimates the point where your muscles start to rapidly fatigue)
yes (with compatible accessory)
Run workouts
Personal records (running)
Race predictor
Foot pod capable
Outdoor Recreation Features

Preloaded outdoor recreation profiles

Hiking, Climbing, Mountain Biking, Skiing, Snowboarding, XC Skiing, Stand Up Paddleboarding, Rowing, Indoor Rowing, Jumpmaster, Tactical

Point-to-point navigation
Bread crumb trail in real time
Back to start
TracBack®
UltraTrac™ mode

yes

Elevation profile
Distance to destination
Barometric trend indicator
Storm alert
Trail run auto climb
Vertical speed
Total ascent/descent
Compatible with BaseCamp™
GPS coordinates
Projected waypoint
Sight 'N Go
Area calculation
yes (via Connect IQ™)
Hunt/fish calendar
yes (via Connect IQ™)
Sun and moon information
yes (via Connect IQ™)
Dual grid coordinates
Cycling Features

Preloaded cycling profiles

Biking, Indoor Biking, Mountain Biking

Courses (compete against previous activities)
Bike lap and lap maximum power (with power sensor)
Race an activity
Time/distance alerts (triggers alarm when you reach goal)
Interval training
FTP (Functional Threshold Power)
yes (with compatible accessory)
Strava features (Beacon, live segments)
Compatible with Vector™ (power meter)
Power meter compatible (displays power data from compatible third-party ANT+™-enabled power meters)
Compatible with Varia Vision™ (head-mounted display)
Compatible with Varia™ radar (rear-facing radar)
Compatible with Varia™ lights
Speed and cadence sensor support (with sensor)

yes (ANT+™ and Bluetooth® Smart Sensors)
Swimming Features

Preloaded swim profiles

Pool Swimming, Open Water Swimming

Pool swim metrics (lengths, distance, pace, stroke count/rate, calories)
Stroke recognition
Pool lap recognition
Swim workouts
Stroke efficiency (SWOLF)
Automatic intervals
Advanced swim (drill, rest timers)
Open-water swim distance
productSpecHR
yes (with HRM-Tri™ and HRM-Swim™)
Golfing Features

Yardage to F/M/B (distance to front, middle and back of green)
Yardage to layups/doglegs
Measures shot distance (calculates exact yardage for shots from anywhere on course)
Digital scorecard
Stat tracking (strokes, putts per round, greens and fairways hit and average shot distance)
Save locations (mark course points of interest for future reference)
Garmin AutoShot™
Green View with manual pin position
Hazards and course targets
TruSwing™ compatible
Round timer/odometer
| | |
| --- | --- |
| SKU | Garminfenix5 |
| Barcode # | Garminfenix3 |
| Brand | Garmin |
| Shipping Weight | 0.3200kg |
| Shipping Width | 0.180m |
| Shipping Height | 0.100m |
| Shipping Length | 0.100m |
| Shipping Cubic | 0.001800m3 |
Be The First To Review This Product!
Help other Active Stride (AS Sports Electronics) users shop smarter by writing reviews for products you have purchased.
*Ships same day if ordered before 2pm Brisbane time, unless otherwise stated
---
We Also Recommend
---
You May Also Like
---
Others Also Bought
---
More From This Category